Rugby Never Stops At Saints!
Coming into the New Year, the St. George's Rugby program has had to adopt an alternative method of training due to the ice rink qualities of the fields.
The season is fast approaching, and cancelling even more sessions would further delay the team from developing skills required to be a provincial title contender. In the interest of time,  Coaches Bill Chamberlain and Mike Stiles made the decision to move practice inside. On Tuesday and Thursday evenings, as well as Friday mornings, the Saint's have been hard at work inside the Dixon Gym. Unlike the field, working in the gym does come with its limitations and inconveniences.
The first limitation of the gym is what aspects of the game can be practiced. The reason rugby is played on grass or turf is due to the games tackling aspect. Attempting to do the same thing on the hardwood floor of Dixon Gym would likely not end up very well. Practicing inside prohibits practicing many parts of the game such as tackling, kicking, or anything more than a five on five situation. Last year First XV player Koshi Hayward says, " Being stuck in the gym is never as good as being out on the real pitch, but, it is better than nothing…. We are having fun."
In addition to the limitations of the gym there are also inconveniences. Currently St. George's is at the peak of it's basketball season, and with so many teams needing time on the court, it get busy. The only available time for the rugby team to practice is from 7:30-9pm at night and 7-8am in the mornings. This has made players as well as coaches lose valuable time out of their mornings and evenings.
Despite all the setbacks, the 'team first' attitude that Coaches Stiles, Chamberlain and Gaffney led with thus far have inspired the rest of the team to make those same sacrifices. This necessary adaptation has truly brought out the commitment within St. George's rugby program.
With the fields turning green again, the expectation is for practice to be outside on Tuesday the 24th.
Leave a Comment
About the Contributor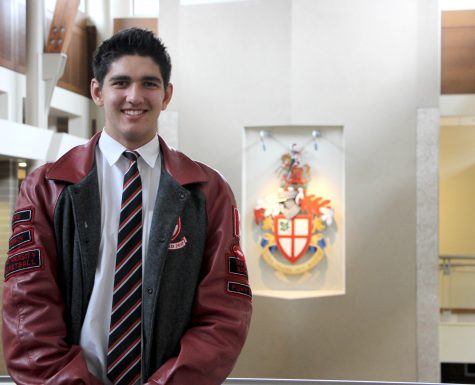 Noah King, Staff Writer
Since joining St. George's in Grade 9, Noah has fallen in love with the school community. He has participated in all aspects of student life from starring...