Tradition praised at Annual Georgian Games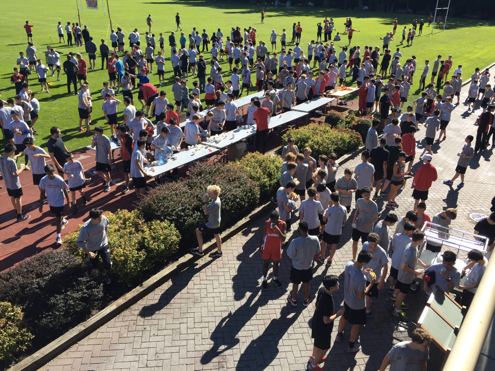 On Friday, November 11th, the Old Boys' Association held their Annual Georgian Games. This event follows the Remembrance Day Ceremony and Georgian Annual General Meeting.
This year, there were close to 40 participants on the rugby pitch, 30 on the soccer pitch, and more than a dozen on the basketball and ball hockey courts. The oldest Old Boy playing was Dr. Gordon Kruberg '78, who comes up from San Francisco every year to participate.
The event has always had a positive reception from the Saints' community. It also acts as a reminder for Georgians' to come to more occasions put on by the Old Boys' Association. Mr. Ian Yen, Head of Georgian Relations, attributed this quote: "I would say many of the Georgians enjoyed the event. It allows for Georgians from various years to get together and reconnect with the school and each other.  It is also one of the few times the Georgians and the School (current students and teachers) come together. This is an annual event that many Old Boys look forward to and always has a strong attendance. I think every Georgian should attend the AGM as often as they can and attend a Georgian Games event at least once."
Mr. Chris Blackman, Head of Athletics, praised the tradition of the event: "I thought it was a great afternoon that is an important part of a day filled with tradition – the Remembrance Day ceremony in Dixon Gym and the Old Boys' AGM in the Upper Grad Lounge.  Well over 100 Old Boys were on campus at some point in the day – quite a few for the entire day!"
For more information on the Old Boys Association and upcoming Georgian events, contact Mr. Ian Yen at [email protected]
Leave a Comment