2nd Varsity Basketball; The Beginnings of a Dynasty?
Term 2 marks the start for many athletic teams in the St. George's Senior School community. For most, basketball season is one of the most exciting times of the year, particularly the 2nd Varsity's basketball season. This past week the 2nd Varsity team powered through a condensed schedule, which included tryouts, practices, and their first game of the season.
Beginning with the tryouts, numbers were quite overwhelming with over 40 kids trying out. As every coach has to do, the team was then trimmed down to a large, but still very slim, 23-man roster. Although the typical basketball roster consists of 12-15 players, a deeper lineup "offers more flexibility" and with "other guys playing other sports, it allows to always have a full lineup" notes Noah Strang, a grade 11 forward on the team.
Monday, November 29th marked the opening game for the team in a competition against King David. "The energy was palpable and infectious," said Head Coach Jonathan Figueroa, which helped lead them to a 70-51 victory. But, with all the great comes some humbling words from star forward Connor Jacques who notes, "the team looks really good out there, but still has lots of room for improvement".
The season is still young for the team, but it has gotten off to a "good start" says superstar guard Cam Burian. He also added that "the whole bench contributed" after literally every single player on the team made it onto the score sheet.
Leave a Comment
About the Contributor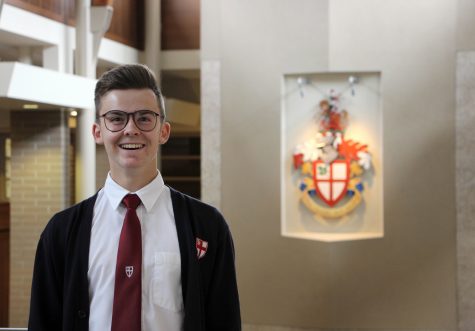 Sandy Fogarassy, Editor, Opinions and Saints of Saints
Sandy is a grade 12 student at St. George's School, Canada's World School for Boys. Sandy has been at the school since the wee years of grade 6 and...