Track & Field Provincials 2016: a terrific end to a terrific season
From June 2nd-4th 2016, the annual British Columbia High School Track & Field Championships took place at Serauxmen Stadium in Nanaimo, BC. The top athletes from around the province, who qualified through their respective Zone meets, gathered in the Harbour City to compete against one another and fight for provincial titles. The Saints sent a team of 33 boys, ranging from grades 8-12, to represent St. George's among 32 other schools in British Columbia. The Saints team also consisted of head coach Mr. Aidan Docherty, Ms. Becky Lawrence and assistant coaches Stephen Abosi and Adam Paul-Morris from UBC.
After taking a ferry to Vancouver Island and a bus to the stadium, the St. George's track & field team arrived at the meet ready to conclude their season with even more success and to carry on the school's reputation of being a strong contender at provincials. Over the next three days, the Saints pushed themselves to the limit under the sun and in warm temperatures, displaying their strength, speed, determination and resilience. Every single athlete from St. George's, regardless of age, competed to the best of his ability, making apparent the many hours of after school training that the team experienced for the past two months.
The grade 8s were the most successful overall grade from the Saints team. In the sprints, Nolan Lacroix and Joel Goh put on outstanding performances in the 100m and 200m, making it to the finals after excelling in their respective heats; in both finals, they barely missed out on placing in the medals. In high jump, Sam Wooder and Jaxon Cohee placed 5th and 6th respectively, clearing up to 1.55m. And in shot put, Ao Ma placed 4th with a throw of 11.25m, missing out on bronze by just 20 cm. The grade 8s, with their great performances and competitive spirit at their first high school provincials, showed that the future of track & field at St. George's is looking strong.
In the junior division, Justin Scott (Grade 9) placed 8th in the 400m with a time of 53.76 seconds, also helping the junior 4x100m relay team place 13th in a highly competitive event. Thomas Kirkwood (Grade 9) also competed well, placing 9th and narrowly missing the final of the junior boys 300m hurdles with a time of 43.61 seconds. Out of all of these great performances, the most outstanding two athletes from the St. George's team were from the senior division. Kenneth Ng (Grade 12), who was this year's team captain, placed 4th in the senior boys triple jump and managed to win the silver medal in senior boys long jump for the second year in a row.
But it was St. George's Quinn Litherland (Grade 11) who caught the attention of all athletes, spectators and coaches at the meet by winning double gold in the senior boys 200m and 400m, despite only being in grade 11. He ran an impressive 200m with a time of 22.51 seconds despite strong headwind and a sensational 400m with a time of 47.57 seconds. His result in the 400m was a new personal best for him and broke the school record which he previously held. His time of 47.57 is one second shy of the provincial record, which he will be looking to break in his grade 12 year.
All in all, the 2016 Track & Field Provincials was a highly successful meet for the St. George's athletes, who returned home with medals, ribbons and many personal bests. The team now looks forward to next spring, when they will return for another action-packed track season and the 2017 Provincial Championships.
For full results, check out bctfa.ca.
Leave a Comment
About the Contributor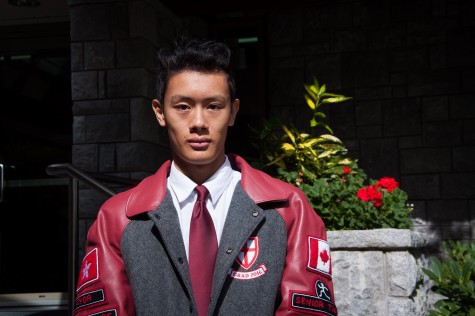 Kenneth Ng, Copy/Opinions Editor
Kenneth Ng is currently a Grade 12 student at St.George's School. Since joining Saints in Grade 8, he has been involved in many areas of the school such...