Varsity Tennis: BC High School Provincials
From May 26 – 28 the St. George's Varsity tennis team participated in the BC high school provincials. Combining with Crofton, the team from Saints consisted of 8 members: Brandon Leung(11), Andrew Day(11), Max Gupta(11), Didier Traile(11), Edward Yu(11), Paul Bao(11), Ben Kirsh(12), James O'Brien(12), and Blair Wilson(12).  The tournament was held at Queen Elizabeth Park and UBC tennis centre for the finals.
The team was setup like this: Boys A Doubles: Max Gupta and Brandon Leung, Boys B Doubles: Andrew Day and James O'Brien, Mixed Doubles: Ben Kirsh and Sunny Liu, Singles: Ben Kirsh.
Starting strong, the team convincingly won all their preliminary matches against: West Vancouver Secondary, Carson Graham, and Port Moody. Continuing with their momentum, the team played Sentinel in the Semi Finals. The score was tied 5-5 and the match that would decide it all was mixed doubles with Ben Kirsh and Sunny Liu representing Saints/Crofron. After a very long and intense match, Ben and Sunny came up extremely clutch winning their match, sending the team to the Finals
Going into the Finals, it was clear that both Saints and Heritage Woods were the top teams with both teams being undefeated. The matches between the two powerhouse teams were close, fast pace, and exciting. Unfortunately the team fell short losing 8-3 even though all the matches were very close. There were many positives which came out of the tournament though. Brandon Leung and Max Gupta won the Men Senior MVP's which was a huge accomplishment because those were the only Men MVP's that were given out. As well, another accomplishment was that this was the second consecutive year that Saints made it to the Provincial Finals, with them winning it all last year.
Overall the team had a great season. Winning ISA's, going undefeated until the finals, and making it to the Provincial Finals in consecutive years is a rarely done. What is even better is that the team consisted of 5 grade 11 players, so more than half of the team will be back for another strong season next year.
Brandon Leung had this to say about the season: "This was an incredible season, maybe my favourite so far. Even though we lost, we put up a good fight with a team that had 5 national players. The team would like to thank Gerry Macken and Mr. Klassen for their endless support and effort to bring the best out of our team. I am looking for next year and bringing more championships to Saints."
Leave a Comment
About the Contributor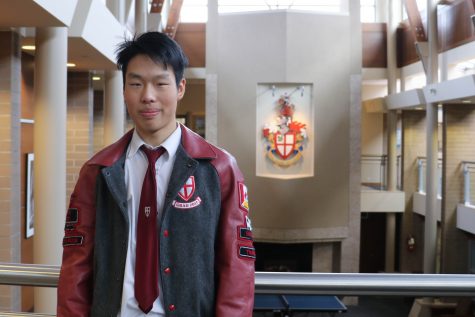 Nolan Lee, Editor, Sports
Nolan Lee is currently a grade 12 student at St. George's. He came to St. George's in the grade 8 year as a boarder from Trail, BC and in grade 10,...