Rowerless in Seattle
Over the weekend of November 7th and 8th, the St. George's Junior A Rowing Team headed across the U.S. Boarder to Seattle to participate in the famed Head of the Lake Regatta hosted by the University of Washington and the Lake Washington Rowing Club. Since Head of the Lake is the only American regatta that the team will be competing in this year, the boys were extremely anxious to battle it out with the strong American crews, including the likes of the Pocock Rowing Club and the University of Washington Huskies Rowing Team. As Senior Rower Benny Pulver put it, "We normally race against other Canadian schools and clubs, but Head of the Lake consisted of mostly American club teams from all along the West Coast with a few schools. Club teams are generally faster than school teams because they have a larger pool of rowers to choose from."
The Head of the Lake Regatta followed the traditional head race format, in which the boats race in a time-trial, racing against the clock to determine which team in the age group, ability group, or boat class could finish the course the quickest. Head racing is a popular format used for rowing around the world, including the Head of The River race on the river Thames in London, England, the Head of the Yarra in Melbourne, Australia, and the famed Head of the Charles in Boston, Massachusetts.
For this race, teams paddled along a gruelling 3.25 mile (5,000 m) course on the University of Washington Huskies' home turf: Lake Union. For the Saints Coxswains, this was one of the toughest tests they would face all season. "There are a few large turns [on the course], making the coxswain's job very important" said Benny Pulver. "The middle portion of the race goes through the famous Montlake Cut: a passage that connects Lake Washington to Lake Union. The sides of the cut are covered in graffiti and were littered with fans cheering on each boat as it rowed through."
The entirety of the regatta's races took place on Sunday the 8th, so the boys had to be very strategic with their energy throughout the day. For the St. George's Crew, the day began with the Men's Junior 2x race, in which the boys placed a highly admirable third place. 25 minutes later, the U-17 Coxed 4x took to the waters, and earned themselves the silver medal. The final race of the day for the school was the Men's Junior Coxed 4, in which two Saints boats competed. One of the boats finished in first place, while the other boat finished in 9th. These results provide the team with great motivation going into the winter training season, as they work toward their ultimate goal of once again dominating June's National Championships in St. Catharines, Ontario.
Leave a Comment
About the Contributor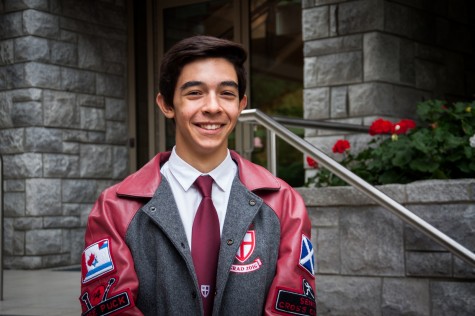 Hartley Witten, Co-Editor in Chief
Hartley is currently a Grade Twelve student at Saints, and is very proud to be writing for The Creed this year. A lifer, Hartley has attended St. George's...