Semi Pros in the Beautiful Game; Second XI Recap
It's the beginning of the school year and the sun is shining. It is great seeing all of your friends again and there is no better way to hang out with them than by playing a good old game of footy. So as a senior student what do you do? The answer is join the Second XI soccer team. This fall, the St. George's second XI had a busy yet short season that lasted just 6 weeks playing some quality soccer.
This season the squad played 12 games and finished the season with a 10-3-1 record. The team competed in the ISA tier 2 division and the GVISAA league. This season, the boys were able to get some hardware winning the ISA's. In the GVISAA league, the boys finished with 5 wins and 1 loss.
This years squad  had great depth with some very talented players. The key grade 11's to the team's success were Will Andrews, Jonathan Chiang, Ryan Hopkins and Jamie Wallace. Of course leadership is a key attribute to any teams success. This years captain, Paul Bains (Grade 12), filled the role with class and a positive attitude. "He had a good work ethic and neither of them ever got disciplined by the referee," said teammate, Brodie Nauss (Grade 11).
There is something exhilarating about playing for the second XI soccer squad. A sense of joy for soccer overrides the competitive aspect of the game. Grade 11 student, Edward Yu, explains the great spirit of the second XI, "The second XI is really fun because you get to enjoy the game of soccer, get exercise, and play competitively without having to commit an extremely large amount of time to practices and matches."
Captain Paul Bains, had this to say about the season, "We have had a very strong season, losing only three games. The highlight of the season for me was the trip to ISA's at St. Michaels University School, where we played some quality soccer and ended up winning our tier. I would like to thank Mr. Atkinson, Mr. Docherty, Mr. Tran and Mr. Wyatt for putting in the time and effort to coach us, as well as all of the staff and students for their endless support over the course of the season."
Leave a Comment
About the Contributor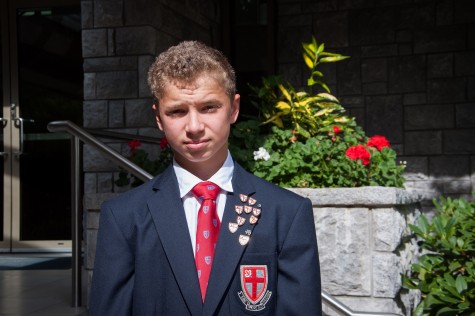 Cameron Burian, Sports Editor
Cameron Burian is a current grade 11 student, at St. George's school, who is actively involved in the athletics program. Cameron plays soccer, basketball,...