Cross Country: Saints Run Their Way To An ISA Championship
On Monday October 7th, the saints cross country team travelled to West Point Grey Academy to compete in the ISA championships race.
The course at WPGA was a difficult one as stated by grade 12 runner Hartley Witten, "The course was very hilly. While there were fewer laps and the distance was shorter. It was one of the more difficult courses that I have run."
On top of a challenging course, the weather was not on their side either, "The conditions were pretty tough. It was raining and the course at WPGA is known to be challenging." said grade 12 runner James O'Brien.
Despite these challenges, the saints still had a very successful race placing 3 runners in the top 3. Grade 11 runner Roberto Mazzone was first to cross the finish line, as he usually does, followed by Ben Kirsh (12) and Nick Good (12) to win the boys division of the ISA champioships
Reflecting on the race grade 12 runner Hartley Witten said, "It felt a little nonchalant. But it was very good for our program going in to zones and provincials."
"It was great that we managed to come together as a team to win ISA's." said grade 12 runner James O'Brien.
"It felt great competing and winning my last ISA team championship meet. Hopefully the whole team can carry that momentum forward to the zone championships, where we will be competing for a provincials berth." Stated grade 12 runner Curtis Weng
This was a huge win for the team and they look to build off of it going into zones and provincials.
Best of luck!
Leave a Comment
About the Contributor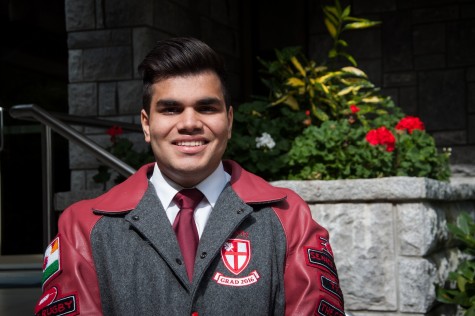 Kaiz Bhatia, Co-Editor In Chief
Kaiz is a grade twelve student at St. George's School and is currently working as the Co-Editor In Chief for The Creed. Kaiz began his time at Saints...