Athlete Of The Week: Ben Scher
This week's Athlete of The Week is another one of St. George's elite rugby stars that has played all over the country including for Team B.C and Team Canada. Ben is recently coming off winning the U-18 division of the Las Vegas 7's tournament with the B.C Youth Elite 7's and being named tournament M.V.P. Ben was also a member of the 1st XV team that ended a nine year drought and won the 2014 provincial rugby championship last spring.
Like most rugby players, Ben started playing from a young age and was first introduced to the sport by his father, who also played himself. "Well my dad has always been a huge rugby fan having played himself, so he pushed me to take it up. At the age of 5 I started playing mini rugby for Saracens RFC in London and I've never really looked back."
Ben has also played plenty of rugby outside of the school teams. "I am a member of the BC Rugby Academy. In the past I have also played for the Vancouver Rowing Club." While Ben plays rugby for many different teams and clubs, he has highlighted the program at the school to one of the best he has been a part of. "Rugby here truly has an amazing history at the school with long standing rivalries and traditions. It is still going strong after all these years with around 70 senior students out on the field every day during third term playing and sometimes more than two teams for each grade. There is such a sense of camaraderie within the program, one truly feels part of the saints rugby family when playing here. It is amazing to be a part of."
Ben has also commended all the coaching staff at the school.  They are people that have not only helped him become a better rugby player, but are also role models that have shaped him into the person that he is. "The school rugby program has helped me develop as not only a player but as a person as well. From the amazing coaching I have gotten at saints to the numerous rugby tours in exotic and foreign countries.I can truly say that the Saints coaching team is second to none in the country. We have ex international players and coaches on the coaching staff. They are so dedicated to the program and I can positively say that I would not be the player I am today without their coaching."
After winning the 2014 Provincial Rugby Championship last spring and ending a nine year drought, Ben already has his focus on re-capturing the title this year.  "The team goal this year is obviously to win back to back provincial 15s and 7s titles. I believe that we have what it takes to realize these goals so it will be interesting to see how we go! As soon as September came around the next goal was the Saints season. First day of school we made a group and started planning for off-season training programs."
Ben reflected on winning the championship last year as one of the best days of his life and one he will not soon forget. "It was probably the best day of my life! I don't really remember it now; it is kind of a blur from the adrenaline but every guy on that team will remember that day for the rest of our lives." With universities in the view for many grads, Ben has opted to keep rugby a part of his plans. "I am planning on either going to UBC or going to university in the UK where I will keep playing rugby for as long as possible."
A couple months after capturing the provincial title, Ben headed to Alberta for the Canadian National Rugby Festival with team B.C and won the National Championship after sweeping rival province Ontario. "That summer was a great experience.  We all came together in a relatively short period of time and swept ontario 3-0 which is always great to win over our rivals." Months after that, Ben was named to the Canadian U-18 rugby team for a tour to Romania despite being a year younger for the team. "Going to Romania with the national team was unlike any previous trip I have ever been on. We normally get time off to relax on trips but in this environment it was all business.We would eat, train, watch film and sleep on non game days and there was not really any time for sight seeing or messing about." Ben reflected on this experience as one of his first tastes of what it is like to be a professional rugby player, "We got to experience what it would be like to be a professional international player, training and spending some time with the mens team. "Being younger did not really affect me that much seeing that I have often been the youngest player on teams but I had to fight for a starting spot. That trip really motivated me to work hard and get more of those opportunities in the future. Even though I may be going to the UK for the next couple of years for university I hope to continue to be a part of the Canadian set up."
Now fast-forward to last weekend, when Ben and the U-18 B.C Youth Elite 7's team won their division and completed an undefeated campaign in the process. Other highlights of the weekend included Ben being named M.V.P of the tournament and the team defeating the U.S.A All Americans team that had beat them in the final the year before. "Las Vegas was amazing. After losing to the USA All Americans last year in such a close game it was a great feeling to get revenge this year. The team has been together for a couple years now so to get a win in our final year together in the B.C sevens program was great. It was an honour to captain the team and be awarded the tournament MVP by Waisale Serevi but it was honestly just a bonus. There wasn't really any one player on the team that stood out in my eyes. We all did our part and we could not have done so well without all 12 guys buying in, which was the amazing thing about this trip."
Leave a Comment
About the Contributor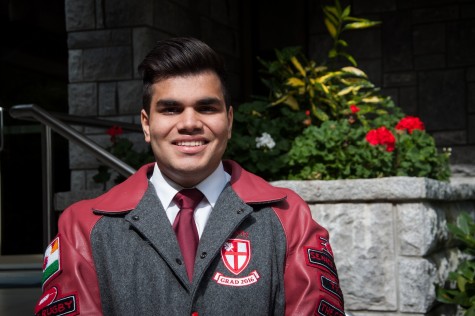 Kaiz Bhatia, Co-Editor In Chief
Kaiz is a grade twelve student at St. George's School and is currently working as the Co-Editor In Chief for The Creed. Kaiz began his time at Saints...