Athlete Of The Week: Joe Sourisseau
New to the sports section this year, The Athlete Of The Week will feature a student that has achieved an outstanding athletic effort within the school community.  To begin this brand new series, it seems fitting to feature our Sports Captain for the school year, Joe Sourisseau. Joe and the Varsity Hockey team have recently come off a huge win in Brentwood, in which he played in front of a crowd of close to 550 people. Joe is also one of the school's elite rugby players and was a member of the 1st XV team that ended a nine year drought and won the 2014 provincial rugby championship last spring. In addition to playing rugby and hockey, Joe dazzles the Saints community every week at assemblies with the "Joe Show", which recaps the week in athletics.
Joe has had a passion for rugby from a young age and the sport is notorious in his family. "I first became interested in rugby when I came to Saints in grade 6. In addition, it was one of my father's favorite sports. "  Joe is heavily involved in the rugby community, whether it be for the school or for provincial and club teams. Joe has highlighted the Rugby program at the school as one that has allowed him to develop his skills well and also given many once in a lifetime opportunities. "The school has had a large impact on my sport.  It has allowed me to develop my skills and reach new goals, as well as provided opportunities for travel and to play at high levels." Joe has also expressed his utmost gratitude for the coaches and training staff at the school. "The school program for my sport is one of the best in the province.  We have in my opinion the best coaches and training staff. My coaches have had an impact on me, they have pushed me to reach my potential, pushed me to try out for rep teams and made me into the player I am today."
After winning the 2014 provincial rugby championship last June (highlights from the historic game against rival Shawnigan Lake Stags can be viewed here) Joe has been focused and is working hard to win back the championship this year. "My goals for rugby this year are the same as last for the team to repeat as AAA provincial champions in both 15's and 7's. It's a long road to the final that started in November and the team has been pushing themselves in the gym and on the field to be able to perform to the best of their abilities." Joe also reflected upon winning the championship as a moment he will not soon forget. "I was over whelmed with joy at being able to lift the trophy with that group of boys. Ending the drought of nine years felt fantastic. I felt like I brought pride to my school, past students, friends and family."
Joe has been preparing himself for the long road to the championship and is excited for what his final year of high school rugby has to offer. "Preparation started last summer for me playing rep rugby for team BC, always trying to improve my skills and grow as a player. It has continued until now in the gym and on the field. I cannot wait for this year's rugby season to start to see what this year's team has in store." Rugby has a long history in the school and Joe hopes to continue playing the game he loves upon graduating. "I hope to be playing rugby for either UBC or UVIC next year. Also as I get older, I hope to play in community leagues."
On top of being a leader in the rugby community, Joe was also elected as this year's Sports Captain which is part of the Student Leadership Committee.  "I was very excited to be named sports captain. I always felt comfortable leading on the field and I was excited to be able to bring that within the school."  Joe is aware that with this leadership position means there are more eyes on him, but he has not let the added pressure affect him.  "My major goal as sports captain this year is to be an example to younger grades to follow with my behaviour and leadership both on and off the field.  As a leader of the school, I am very visible so my actions reflect me. I try not to let this affect how I play but there is undoubtably more pressure since [being named Sports Captain].
Leave a Comment
About the Contributor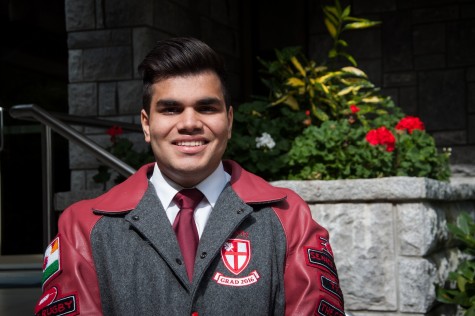 Kaiz Bhatia, Co-Editor In Chief
Kaiz is a grade twelve student at St. George's School and is currently working as the Co-Editor In Chief for The Creed. Kaiz began his time at Saints...