Head/Tail of the Gorge 2014
October 24-26 2014
St. George's Rowing Team Junior A and B members competed in the Head/ Tail of the Gorge Regatta in Victoria over the weekend of Oct 25. Both A and B teams  performed very well despite the harsh weather conditions and the fact that they were competing against all age categories including adult  divisions.
The team departed for Victoria on Friday in preparation for the Head of the Gorge the next day. Saturday morning, members woke early for training, only  to discover heavy rain and howling wind conditions. However, the team's attitude remained positive and upbeat after an early breakfast.  As soon as the team arrived at the regatta's location, they immediately commenced rigging the boats and ensuring that they were prepared for the race. Launching of the boats commenced at 10:00 am. Six St. George's boats competed in the Regatta. The three St. George's Eights performed well, achieving 2nd, 3rd, and 5th place. Meanwhile, the three St. George's Quads did considerably well in their race.
Next day, teams competed in the Tail of the Gorge Regatta. The weather conditions improved for the race and the six St. George's boats competing in the Regatta performed extremely well. The three quads placed 3rd, 7th, and 9th and the three eights placed 1st, 2nd, and 4th.
Leave a Comment
About the Contributor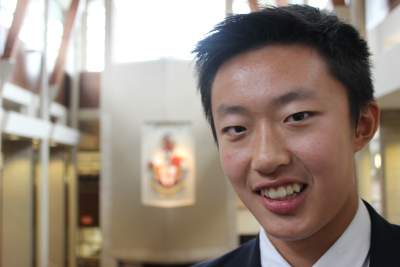 Preston Chan, Saints of Saints Assistant and Video Editor
Preston Chan is in Grade 10 and currently attending St. George's School. He has been a St. George's student since Grade 8. He plays the clarinet in St....