St. George's Senior Rugby Tour 2014
Every two years, St. George's Senior Rugby Program tours someplace not only to explore a new culture, but also to play rugby against some of the top schools in that region. The tour also provides a very special opportunity for a team to come together as a group and build unity as well as identity. The students also stay at different families houses, a great chance to experience something new and embrace a different culture, as well as run into some difficulties.
This year, the Senior Rugby Program was fortunate to travel to Argentina over the course of the spring break. A total of forty-five or so boys were fortunate enough to be selected for the tour, making up two different teams, a 1st XV as well as a 2nd XV. The Saints 1st XV side looked to be much stronger than their opponents, going undefeated in the tour by putting up four wins and zero losses. The 2nd XV side however had a tough time playing as a cohesive unit, winning their last game however losing their previous three.
"Rugby tour isn't all about winning. It's about embracing new culture and bonding as a unit, and I can proudly say that I think everyone who was fortunate enough to attend the rugby tour did just that. We might have two different rugby teams, but deep down we are all brothers." Said John Hosking, captain of the 1st XV.
For all of the grade 11 and 12 students, this was their last rugby tour at St. George's. The grade 10 rugby athletes will be fortunate enough to attend their senior rugby tour during the last year at Saints.
"I can honestly say that this tour really shaped me as an individual. Everything I learnt not only about rugby and different cultures, but also of myself really shaped me into who I am right now. Rugby's such a beautiful game due to the fact that it can be played anywhere, and against anyone. All you need is a ball and some cleats." Said Ben Scher, a grade 11 student.
Hopefully St. George's will continue on this tradition of rugby tours for many years from now, as the experience is something that can never be forgotten.
Leave a Comment
About the Contributor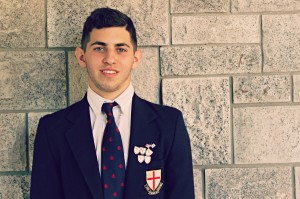 Jayden Bloom, Video Editer
Jayden is currently a Grade 11 student at St. George's and is a Staff Writer for The Creed. His interests mainly lie in Athletics, but also Music. Jayden...