First 11 test their skills at C.A.I.S tournament
On October 22nd the St. Georges first 11 varsity soccer team traveled to Halifax to compete in the C.A.I.S tournament. The team was accompanied by their coaches Mr. Shawn Laurence and Mr. Steffen Tweedle and left late on Tuesday night. Before the tournament started on Friday, they spent two day's practicing and exploring the sights of Halifax while settling into their new surroundings.
The practice seemed to pay off as the team won their first two games, including a huge 1-0 win against Ridley college who sent the Saints packing in last years semi finals. The next day started out well with a commanding 6-0 win in the teams first match of the day that led into the most important game of the tournament that afternoon against Applebee College for a spot in the semi finals. Saint's came out strong in the first half and scored the 1st goal on a Connor Wittig header in the first 5 minutes of the game. However, near the end off the 1st half an Applebee player, who appeared to be in an offside position, slipped past the Saints defenders to score a breakaway goal. The second half began with a huge push from the Saints side that had strikes hit the post twice in the first 20 minutes. Applebee College replied to the Saints charge winning a free kick that bounced off a couple of players before finding the back of the net to make it 2-1 midway through the half. Saints had a chance to tie the game on a Theo Sauder penalty shot but the Applebee goalie was equal to the task and made a quality stop. St. Georges kept playing hard until the final whistle but despite an opportunity on a last minute free kick they were unable to score. The boys were handed their first loss of the tournament as well as being eliminated from contention. The last day of the trip ended on a high note as the team had a dominant performance winning 11-0 to secure 5th place. The blowout included goalie Adam Cohen's first goal of the season while he was playing striker near the end of the game. Even though the final result wasn't what the team hoped for they grew stronger as a teammates and will try to improve at the tournament in years to come.
Leave a Comment
About the Contributor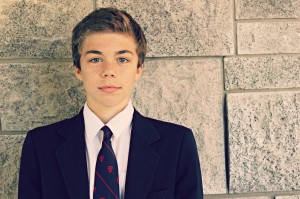 Keegan Matheson, Sports Writer


Keegan is a Grade 10 student attending St. George's school. He traveled the world at a young age living in Santiago, Chile for 3 years and...