Water You Swimming Today?
Such a busy day at Watermania! On October 30th, senior swimmers from St. George's School participated at the BCSS(British Columbia Secondary Schools) Vancouver Richmond Zone Meet. One of the biggest teams in Greater Vancouver, our swim team consisted of 99 boys from grades eight to twelve. Along with us came the coaches, Mr. Hersee, Ms. Dill, and Mr. Sayers, who all took a day off from their regular classrooms to cheer the boys on.
After hours of competing, many were satisfied with their result. New friendships were established and old friendships were rekindled. "I had a great experience bonding with my teammates, and I got a feel for how I am doing in competitions," remarked James Lin, one of our grade 10 swimmers.
Perhaps one of the closest races in St. George's history, our A relay, Brandon de Costa, Colin Mitchell, Harry Duan, and Bill Lin, out touched Lord Byng's A relay by a centisecond in the 200m Freestyle Relay. Even with Lord Byng's stacked team, our boys were resilient and came through with the win.
"The swim felt awesome, the way that everyone was cheering for me. Also, seeing the opponents' reaction was priceless. I didn't really boast my victory, but I was very happy because I did something special for my team," reflected Bill Lin, our grade 12 swimmer who anchored the winning relay.
For our seasoned athletes, who are swimming at Provincials on November 15/16, today was just the qualification meet. But for many of our younger enthusiasts, today was their last meet of the year. Good job to those who are ending their season and keep up the good work! Also, best of luck to the boys swimming at Provincials!
Leave a Comment
About the Contributor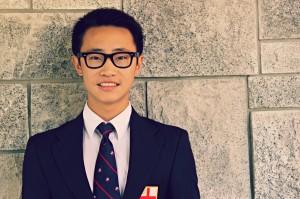 Paul Wang, News Editor
Paul is currently a Grade 10 at St. George's School. Working as the News Editor for The Creed, he is responsible for editing and refurbishing articles...