Saints junior soccer teams weather the storm at the St Michael's University ISA tournament
On Friday September 27th, both  grade 10 soccer teams visited St. Michael's University in Victoria for a two day ISA soccer tournament.
After settling for a disappointing 1-1 tie with Notre Dame just a few days before, the A team was determined to fight hard this weekend.  They kicked off the tournament with a match against local school Glenlyon Norfolk.  Saints had a very slow first half and fell behind 2-1.  Coach Bruce Wilson could see the slopiness in their play and gave them a motivating pep talk at half time.  This sparked the team in the 2nd half as the Saints' boys dominated Glenlyon, showing enough aggression and resilience to tie the game.  Unfortunately, the A team lost in penalty kicks.  This prevented any chance of winning the tournament because now it wasn't possible for Saints to win the pool.
In their next game, they faced local rivals, the West Point Grey Academy.  Saints controlled most of the game and scored 3 goals in the first half despite many shots on net.  However, when the 2nd half came around, defender Owen Pitblado and goalie Sam Turner  were given two yellow cards for swapping positions in the middle of play.  West Point Grey took advantage and scored on a penalty kick.  In the last minutes of play, defender Gabriel Atkinson fouled a West Point Grey player in the box which resulted in another penalty where they scored again.  Saints hung on and managed to squeak out a 3-2 victory.
On a cold rainy Saturday morning, Saints A faced Southpointe Academy.  Southpointe proved to be a big challenge for Saints by coming on with 3 quick goals in the first half.  Again, Saints finally woke up in the second half and answered back with five great goals led by Chris Bonner who scored twice.  Saints won 5-3.
Despite two victories and only one loss so far, Saints had to settle for a final game which determined fourth place.  The last match was against Shannigan Lake.  Saints was the stronger team but the game was tied 1-1 which led to a penalty shootout.  This was a chance for Saints to redeem themselves from the earlier loss to Glenlyon.   Sam Turner, the goalie, came through for the team with a stellar performance and Saints prevailed with a final penalty shot by Chris Bonner that went straight to the back of the net.  Captain Gabriel Atkinson reflected on the A team's play by saying, "The team's determination was extraordinary coming back from a 3-0 deficit to win 5-3. It was great to see their hard work, leaving every thing on the pitch without fear or favour."
The Saints B team was in a separate pool.  They were getting warmed up and lost to the home team,  St Michael's, 5-0.  They put on a stronger performance in their next game but unfortunately lost a close battle 1-0 against the Shannigan Lake A team.  On Saturday morning in the blistering rain the B team matched up against the Shannigan B team and came through victorious with a score of 2-1.  Connor Gilmore scored a beautiful highlight reel shot that arched perfectly over the goalie into the back of the net.  Their final match ended in a disappointing loss by penalty shootout to West Point Grey Academy, putting them in eighth place.  Central midfielder Quinn Cole stated, "I felt that our team played hard. We worked together, supported each other and displayed good sportsmanship.  This great experience not only improved our game sense but also allowed us to bond together as a team."
Saints A's next game will be against the West Point Grey Academy teams on Monday, September 30th and Wednesday, Oct 2nd.  The B team's next game is against St. John's.  Hope to see you come out and support both games.  Go Saints!
Leave a Comment
About the Contributor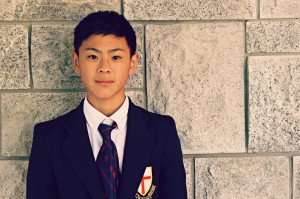 Michael Jung, Sports Writer
Michael is presently in grade 10, starting his third year at Saint's.  Michael is passionate about sports such as soccer, basketball, volleyball, cross-country...