10B soccer drop home opener against St.Pats
On Thursday September 26th, the grade 10B soccer team played in their home opener against St. Pats Celtics. After losing their first game against South Point, the team was determined to get their first win under the belt.
The two teams kicked off at 4:00 at Nigel Toy field and it was the Saints that dominated the early stages of the game. The highlight of the half came from striker Quinn Cole as he got the ball around his defender, got a break towards the net, but shot the ball just wide of the goal.
Goalkeepers from both teams were exceptional in the half, but in particular Saints goalie Paul Bains made multiple saves to keep the team in the game. The first half was filled with action at both ends and the game remained scoreless at the break.
After the break, Saints coach Mr. Michael Atkinson made a goalkeeper switch replacing Paul Bains with other goalie Seth Book. Early in the half the Saints got on the board with Seb Steven converting on a one timer from David Yang, but the goal was disallowed because of an offside call.
The Saints didn't let the disallowed goal get them down and they created more scoring chances. New boy Connor Gilmore was able to get a breakaway but was robbed of his opportunity by the Celtic's keeper. Later in the frame it was Jorge Alamillo missing a header by inches that was perfectly kicked into the box.
The game was in its final minutes when a Saints defender fouled an opposing player just inside of the box. The player was awarded a penalty kick and was able to convert on his chance. Less than a minute remained and The Celtics lead 1-0. The Saints tried give a final push but the Celtics would give up the ball and the game concluded with the Celtics winning 1-0.
Even though the team had lost, coach Mr. Michael Atkinson was very pleased and had this to say about the team's performance: "Although the score wasn't in our favor, the boys played a much better game than they did last week (against South Point) they were finally playing like a team. They had opportunities but they just weren't able to convert, it was just one lucky bounce that decided the game."
Leave a Comment
About the Contributor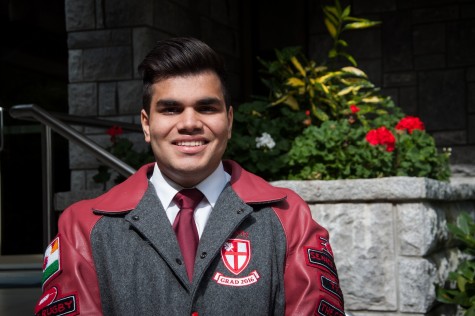 Kaiz Bhatia, Co-Editor In Chief
Kaiz is a grade twelve student at St. George's School and is currently working as the Co-Editor In Chief for The Creed. Kaiz began his time at Saints...