The Saints Players theatre program has been around since 2012, and if there's one thing it's known for, it would be the talented ensemble of actors and actresses. 
We all know what actors do: they act, they sing, they dance, and they look damn good doing it. It seems simple, but there are actually a lot more technicalities that happen to make this possible.
Howie Wang, a Grade 12 student and Rigg Scholar at St. George's has been the stage manager for the senior school production since the end of Grade 11. He describes the time-consuming position as the "big boss of tech", having to sacrifice 25 hours of his week to make sure rehearsals run smoothly. 
What is tech, you might ask? From lighting to audio to backstage transitions to construction, tech makes a show come alive. This year's set, unlike previous years, was designed entirely by the theatre production classes right before summer break. From painting to cutting, Stu's crew began construction early in September and are nearing completion. According to Howie, crew is also the foundation for actors, making sure performances go smoothly and safely.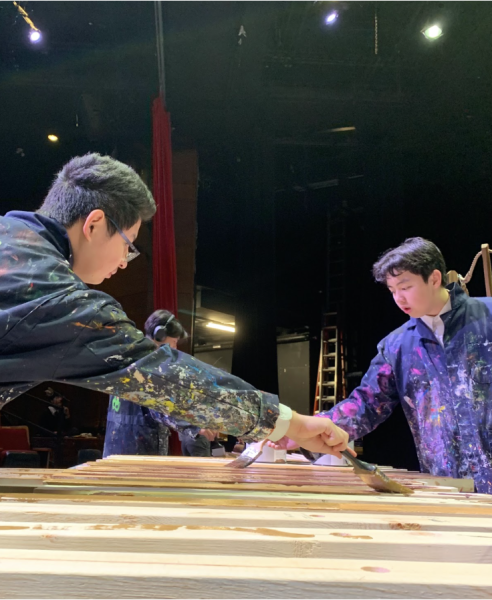 Apart from the massive set, Peter and The StarCatcher is also featuring live sound effects for the first time in five years. This is called Foley, which is a term where members of the crew use household objects or props to 'make' sound. Whether that be ringing a bell for Tinkerbell's entrance or hitting a piece of wood to simulate a door slam, the practice contributes to the 'live' feeling of theatre. If done right, Foley audio is almost indistinguishable from pre-recorded tracks. In that regard, "We are what happens in the back of the mind without being really thought of, " says Howie, building on the idea that live crews are often invisible if they're flawless.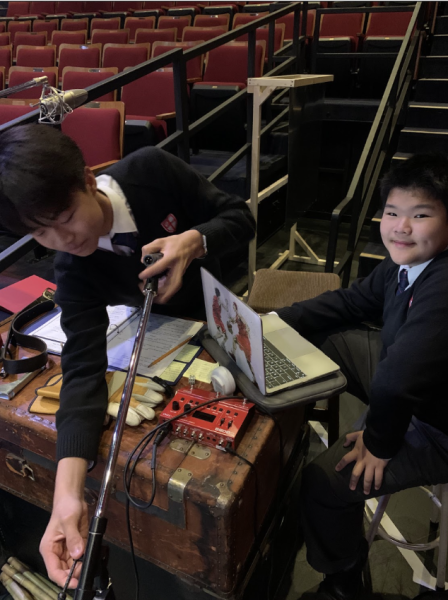 Representation for the stage crew isn't easy.
More often than not, actors are just easier to advertise and promote. Actors take the spotlight because "that's just the whole nature of acting, " says Benji Baker, an aspiring performer in Grade 11.  Audience members are naturally more attracted to a flamboyant dance or heart-wrenching monologue as opposed to wood-cutting and moving props. In that regard, Benji says that "show crews aren't as much underrepresented as much as actors are overrepresented." However, as time progresses and the catwalks are now outfitted with fresh new LEDs, the Saints Players program works towards more representation for crew— a fresh take on dramatic advertising.