The Extra Hamper Drive
The Hamper Drive has been an annual tradition at Saints for more than 30 years. St.George's is one of the largest providers for Christmas Hampers in the Lower Mainland. Each year, every advisor group is assigned to provide food, toys, and other necessary goods for two families.
Last Sunday, December 13th, Ms. Sandra Gin and Mr. Rick Roberts advisor groups went to No Frills to do a little extra for the hamper drive. The two advisor groups set up a table, put on their Santa hats, and got their Christmas spirits up. All day from 10am-4pm they asked and gathered donations from nearby No Frills customers. Even though the weather conditions were not ideal, the boys had positive spirits throughout the day. And all their positivity rubbed off onto others as they ended up raising an amazing $500, as well as 3 car loads of cans, cereal, and other non-perishable items.
Although this is not a school wide tradition, Mr. Roberts has been taking his advisor group to raise extra money/food items for more than 10 years. He had this to say about why he continues to keep this great event going "Seeing, at the end of the day, how much we've collected, and knowing that the lot is going to be appreciated by people who truly are in need…that's powerful. Receiving the cold shoulder from someone, knowing that you're doing something so good, that hurts, yet it's a valuable and powerful lesson for a young person to experience. Delivering a hamper that's flowing over with goods we went out and worked for…that's a powerful experience, and so much more meaningful than just going shopping."
The students in the two advisor groups look forward to this event every year and they all have great things to say about it. Sandy Fogarassy(11) had this to say: "The Hamper Drive really opened my eyes to see how willing people were to give. After seeing the large amounts of food, and money, that we got, I began to appreciate how easily I can help out".
One of the most rewarding parts is delivering all the extra items, Preston Chan(11) who helped deliver the Hampers last year said this about his experience: "It was great to see the overwhelming amount of support that we got for the Hamper Drive last year. When I personally delivered the Hampers to the families, it was such a great experience because seeing how elated the families were and knowing that they were greatly appreciative of the donations was a truly humbling experience".
Leave a Comment
About the Contributor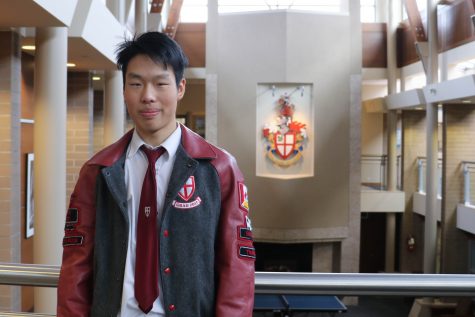 Nolan Lee, Editor, Sports
Nolan Lee is currently a grade 12 student at St. George's. He came to St. George's in the grade 8 year as a boarder from Trail, BC and in grade 10,...