St. George's Student Election, Conservative Party Victorious
On October 15th, St. George's Senior School held a Senior School student mock election for the upcoming Federal Election. This was not the first time St.George's has had a student election, the most recent one was in 2011. The idea of a student election was created by an organization called "Student Vote" (studentvote.ca), but Ms. Ember Konopaki was the main person in charge of organizing this event.
She said the main reason she wanted to have a student election was "I hope this election will accomplish things in the present and in the future. I hope in the present it encourages students to inform themselves about issues going on in Canada right now and start conversations about how we as a country can address these concerns. I hope that through this event students will see how important exercising your democratic right to vote is, that their vote does matter and that in the future they will continue to be informed and engaged citizens and vote!"
The young vote in Canada has been a reoccurring problem, in fact, over the past 4 elections the 18-24 age bracket had the lowest turnout. According to Elections Canada, young Canadians from the ages 18-24 are almost non-existent on Election Day. 
The student election took place before school, at break, at lunch and after school in the Lower Great Hall. To vote, student ID, lunch card and another piece of ID was needed. The winner of the student election for the Vancouver Quadra riding ended up being the Conservative Party with 58% of the votes, the candidate of the riding is Blair Lockhart who also happens to be the mother of St.George's Grade 11 student, Sandy Fogarassy. In second place was the Liberal Party with 29% of votes.
The student election ended up being a success. Many students really enjoyed being able to vote,as well, how it is getting the youth involved with voting. Mark Epshtein (11) had this to share about the student election, "This is a great way to get the students of St.George's into the habit of voting, as our generation will soon produce the leaders of Canada".
Leave a Comment
About the Contributor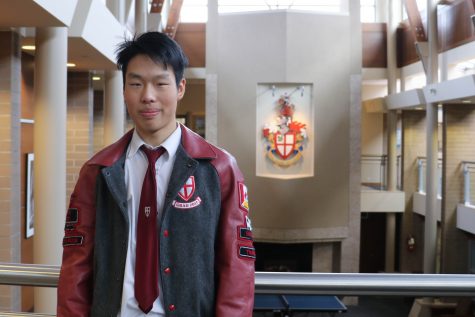 Nolan Lee, Editor, Sports
Nolan Lee is currently a grade 12 student at St. George's. He came to St. George's in the grade 8 year as a boarder from Trail, BC and in grade 10,...