Maya Angelou: a Life of Struggle and Success
Maya Angelou passed away Wednesday May 28, 2013 at 86. Angelou passed at her home in Winston-Salem, North Carolina after battling illness for some time. Her family surrounded her during her last moments in this Earth.
Angelou was born in St. Louis, Missouri on April 4, 1928. As an African-American woman growing up in Southern United States during times of struggle she suffered from harassment and abuse. At the age of seven her mother's boyfriend raped her. She reported the crime, which led to her mother's boyfriend death. She believed that the reason for his death was that she spoke about it so she decided not to talk for five years. She said: "I thought, my voice killed him; I killed that man, because I told his name. And then I thought I would never speak again, because my voice would kill anyone …"  She later stated that this time of silence allowed her to grow and mature from a very young age. She also discovered a passion for books and literature.
Angelou's life and legacy go far beyond the books and poems she wrote. She started as a dancer in nightclubs in San Francisco and New York. She made a statement when she married a Greek man; back then interracial marriages were still stigmatized. Despite all she carried on with her life and carried herself with pride. Eventually the marriage ended. Angelou later moved to Africa, spending most of her time in Accra, Ghana's capital. There she met Malcolm X and learned about the African culture. When she returned to the United States she became a symbol and activist of the African-American Civil Rights Movement. Thorough her life Maya Angelou was a dancer, actress, film producer, film director, poet, writer, professor and more. She was an inspiration to many modern day women icons, for example, Oprah considers Maya Angelou her mentor.
Maya Angelou's novel will forever be remembered and read with admiration. Her most famous book I know Why the Caged Bird Sings an autobiography she wrote in 1969 that tells the story of Angelou and her brother's struggles growing up. It was a bestseller and it touches ground on controversial topics such as racism, rape and sexuality. It is also shows the author's journey while seeking self-independence and getting to know herself.
Maya Angelou's legacy will forever be remembered. She was a very strong woman who fought for human rights while creating incredible pieces of literature that will always be relevant. Let her soul rest in power and in peace.
View Comments(1)
About the Contributor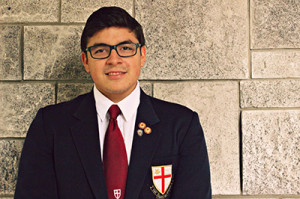 José Gallardo, Staff Writer
Jose Gallardo is a senior at St. George's School. Originally from Guayaquil, Ecuador Jose lives in the Harker Hall residences as a boarder at Saints. Jose...