St. George's Staff Appreciation Day
Every year parents organize the St. George's Staff Appreciation Day: a day when they have a chance thank everyone  for all the hard work they do for their sons.
Ms. Susan Chow, parent volunteer, describes the important event.  "Parents want to take part because it is a very inclusive day.  We don't ask anything specific and they can sign up for whatever they want and we take it and it all gets eaten.  I think it is an easy way for parents to say, "Thank you!  We appreciate what you do for us from maintenance to the ladies at the front desk to the teachers and the administration."  Sometimes things are just too complicated and this is easy; drop it off, get your kid to bring it … we will use it and I think it is the inclusiveness that makes it very popular." This year, Mrs. Chow was a Staff Appreciation Day coordinator.  Her son, Kennedy Chow, is currently a Grade 11 student at Saints. Mrs. Chow has been organizing this special day since Kennedy was in grade 3. Staff Appreciation Day has grown exponentially to the point where there are even leftovers for some students and the boarders after school!
On this special day, I went around the school asking students why it is important to celebrate the staff in our school by pampering them with home-cooked meals and delicious treats. This is what they had to say: 
Q: Why do you think it is important to have a day to recognize the staff?
A: The teachers do a lot to help the students out. They're very friendly and approachable. Over the years, I've developed certain relationships with teachers and had actual conversations with them. They become actual people instead of just teachers. There are so many staff members behind the scenes and I'm sure many of us don't notice them, such as the field crew and janitors that we don't know about that are always working to keep our school clean. They keep our school clean and running.   – Hunter Will, Grade 12.
A: We are always so occupied with our own lives that we hardly ever get time to thank the teachers, janitors, bus drivers, etc. for their commitment to the school and to the students. They are the driving force behind this community, and they are always looking out for us. Without them, the system would not run as smoothly as it does. We are all in this together and that is why I believe there should be at least a day to appreciate all that they have done for us. – Aidan Chan, Grade 11.
It is very impressive to see how this event really manages to reach the whole staff community at the school by thanking not only the teachers but also the ladies that prepare food for the students everyday and the janitors that are always hard at work making sure St. George's is always looking tidy and clean making it a better environment to learn in.
All in all, this year's Staff Appreciation Day was a huge success with many smiling –and fulfilled- teachers and staff (and also some lucky students who got chance to try some of the food the parents made). There was lots and lots of food!
Leave a Comment
About the Contributor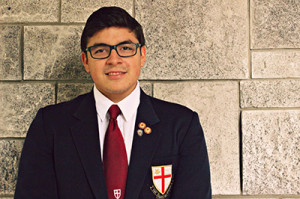 José Gallardo, Staff Writer
Jose Gallardo is a senior at St. George's School. Originally from Guayaquil, Ecuador Jose lives in the Harker Hall residences as a boarder at Saints. Jose...