Big time technology arrives at Saints
In 1984, the world of printing took a huge leap forward. Since its conception, the 3D printer has made a vast impact on our society. These printers allow us to make a three dimensional object from a digital reference. Achieved using an additive process, successive layers of material are laid down in different shapes, forming 3D objects.
Fortunately for St. George's students, the school managed to purchase one over the Winter Break. Students came back to school ecstatically, eager to make 3D objects.
According to Wohler's Associates, the market for 3D printers and services was worth $2.2 billion worldwide in 2012, with an increase of 29% from 2011.
Chock Lopez, a Grade 11 student at SGS, shared his thoughts on the new 3D printer.
"I think it's so cool that the school managed to get a 3D printer. I always see them on TV but never thought I would actually be able to use one. I can't wait to make something with it."
Developing at such a rapid pace, who knows what the future holds for technology?
Leave a Comment
About the Contributor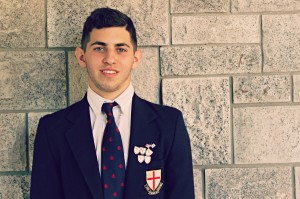 Jayden Bloom, Video Editer
Jayden is currently a Grade 11 student at St. George's and is a Staff Writer for The Creed. His interests mainly lie in Athletics, but also Music. Jayden...