Movember at Saints: The Story of the Stache
Throughout the month of November, you may have seen a number of gentlemen and maybe even a couple ladies donning their "Movember stache." For those of you that don't know what Movember is all about, Movember is a campaign to increase awareness and raise money towards prostate cancer, mental health challenges, and other health issues. Movember, the group who kick-started this campaign, encourages men and youth alike to let out their mo and to spread the word. Movember states on their website that "with their new moustaches, these Mo Bros act as walking and talking billboards, bringing awareness to men's health issues and prompting conversations wherever they go."
At Saints, we have taken up this worthy campaign as well. We have encouraged our boys to let their Abe facial hair for the greater good of men's health and to display a better sense of maintaining hygiene. Since not everyone has the ability to grow such an amazing patch of hair, the Grade 9 committee has been doing their part by selling moustaches to students at lunch. These staches go for $2 a piece.
We are just passed our halfway mark and the photos attached show some of the school spirit towards the Movember Campaign.
For those not sure about proper moustache etiquette, Art of Manliness has an article on how to grow out your manly handlebar. http://www.artofmanliness.com/2012/11/01/how-to-grow-a-handlebar-mustache/
View Comments(1)
About the Contributor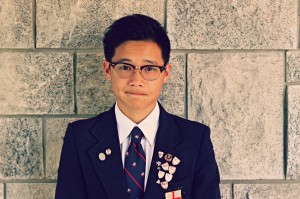 Aidan Chan, Editor in Chief, Official Great Guy
Aidan is currently a Grade 12 student at St. George's and is an Official Great Guy and Editor-in-Chief for The Creed. His interests fall into many areas...