Wind Ensemble teaches music teachers with Dr. King
On Oct. 16-17, Dr. Gerald King visited St. George's and taught music classes on both days to each concert band in the school. He generously shared his wisdom and passion for music with our students and teachers alike. Dr. King took the amazing skill levels of the St. George's music ensembles and raised them all to extraordinary heights. However, the real treat was his time spent with the Wind Ensemble, something that he looked forward to as much as our students did.
About our Wind Ensemble – it is a student run concert band of approximately 35 to 40 musicians. Students are accepted through auditions, which take place in September. The Wind Ensemble practices once a week on Wednesday nights from 6:30pm – 8:30pm, and students do not receive any credit for participating. Rather, they enjoy the amazing experience of performing and working with the school's top musicians to perform more challenging exciting music. The Wind Ensemble is conducted by Mr. Rnic.
This past Saturday (Oct. 26), our very own Wind Ensemble traveled to the British Columbia Music Educators Association (BCMEA) Conference at the River Rock Casino and Resort, where its musicians helped demonstrate teaching concepts to various interested music teachers. The band had the privilege of being led by Dr. King. The basic idea of his clinic was demonstrating how to effectively get students to understand and reciprocate what their teachers are explaining about music. The session's title was "Be the Clinician – from theory to practice." After thirty years of teaching music, Dr. King definitely has amazing insight into conducting and directing bands and really knows how to convey any kind of musical direction.
The Wind Ensemble as a whole loved the experience and opportunity to work alongside such a great conductor and teacher. Steven Hao, a grade twelve flute player in the Wind Ensemble, found Saturday's clinic to be quite rewarding. He said, "We learned a great deal from Dr. King's 'Theory in Practice', seeing the musical process through the eyes of band teachers and applying that to our playing."
This clinic, however, was not a simple thing to create. After last year's visit to St. George's, Dr. King came up with an idea for demonstrating teaching concepts in music. After an entire year, his idea came to be an actual session at the BCMEA Conference. Every student in our Music Department was enlightened by his visit this year, and we welcome Dr. King to come back anytime as a guest conductor!
To read Dr. King's Biography on the University of Victoria website, click here.
Leave a Comment
About the Contributor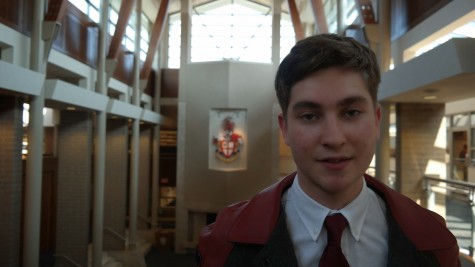 Zachary Levin, Editor in Chief
Zachary is currently a grade twelve student at St. George's Senior School. He has pursued a variety of interests such as being on the provincial Schoolreach...