We Day Vancouver 2013
On Friday October 18th, thousands of students, teachers, and charity organizations alike gathered at Rogers Arena to attend We Day Vancouver. We Day is a "youth empowerment" event organized by Free the Children, a charity that specializes in sustainable development in developing countries. We Day started in 2007 to motivate the youth to take action on local and global issues by inviting many inspirational people, world leaders, and celebrities to perform and inspire others.
We Day Vancouver is one of the most popular events in all of Free The Children's campaigns. Televised by CBC, We Day has made a reputation for itself throughout North America and is scheduled to perform in London, England during its 2014 tour. We Day Vancouver's event was hosts to many influential people such as Martin Luther King III, Kofi Annan, Romeo Dallaire, and Spencer West. Also in attendance were bands such as Hedley and Down With Webster, as well as singer Avril Lavigne. St. George's, being one of Free The Children's top fundraisers in the Lower Mainland, was granted a number of floor seats, including ones closest to the stage. The boys who were chosen to attend shared an amazing experience with the 20,000 others who were also in attendance.
Leave a Comment
About the Contributor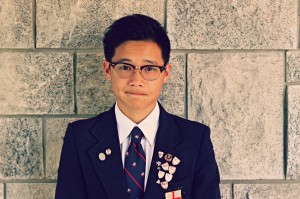 Aidan Chan, Editor in Chief, Official Great Guy
Aidan is currently a Grade 12 student at St. George's and is an Official Great Guy and Editor-in-Chief for The Creed. His interests fall into many areas...