St.George's runs for Terry
On Thursday, September 26th, St. George's celebrated the 33rd anniversary of Terry Fox's Marathon of Hope. St. George's students and staff members came to school ready to run in memory of Terry Fox and to continue the progress Terry has helped make on cancer awareness. The weather cooperated for the run; it stayed dry and the sun was trying to peak out of the grey clouds in the morning. Before the run commenced the school met in the Dixon Gym to go over the details of this year's running course.  Mr. Shawn Lawrence finished of the meeting with some words that reminded everyone about Terry Fox's inspirational journey across Canada in 1980.
Staff and students then gathered on the Nigel Toy field preparing for the start of the run. Mr. Lawrence roared, "Ready, Set, Go!" and on his mark the flock began their route. After one lap around the field, the runners proceeded into the depths of the Endowment Lands that border St. George's. Teachers were placed on almost every corner of the course supervising and cheering runners on as they passed by. Energy levels were high and participants were determined to keep running just like Terry did in 1980. It wasn't before long that runners started gathering towards the finish line, and Grade 9 student Roberto Mazzone was the first student to cross the finish line in front of the school. Following Roberto other students were assembling at the end of the course and were cheering on the partakers that raced in after them. School spirit was high, as it seemed like every person that crossed the finish line had a smile on his or her face.
St. George's had another successful Terry Fox run this year, on the running course and in donations as every student filled in a pledge form for the Terry Fox charity foundation. Terry Fox's journey has inspired people all over Canada and in different parts of the world; the attitude and nature of the St George's community on September 26th made it clear that they were part of that collection of people.
Leave a Comment
About the Contributor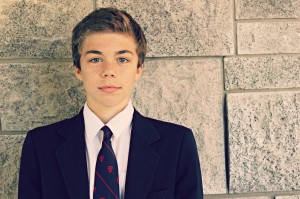 Keegan Matheson, Sports Writer


Keegan is a Grade 10 student attending St. George's school. He traveled the world at a young age living in Santiago, Chile for 3 years and...