Premier colleges hold Ivy Plus Presentation
Over a thousand high school students, parents, and faculty attended the Ivy Plus Presentation held at St. George's School on Wednesday September 25, 2013. Admission officers from Brown University, Princeton University, Dartmouth College, Stanford University, University of Pennsylvania, Columbia University, and Harvard University came to the Senior School to impart unto the audience a taste of the glamour that comes with an Ivy League University.
St. George's School is particularly honoured to host the event, as it is the only venue in British Columbia to hold Ivy League presentations.
The evening began with the admission officers taking turns introducing their respective undergraduate programs. Afterwards, the term 'liberal arts' was presented. This term was also the theme in the presentation. The admissions officer from Princeton emphasized the importance of having "a free choice in education. It is ultimately a matter of 'connecting the dots'. One may be interested in physics, but the school will ask the student to take music courses. It is the hope that the music courses may enrich and further develop the student's pursuit in physics."
Admission associates then addressed issues of "students applying from Canada," including academic programs, admission policies, 'the Canadian A' (86%), early decision, diversity, and financial aid.
Kevin Tian, a Grade 12 student, was impressed with the evening's informational focus.  "I like the holistic approach to admissions for Ivy Leagues," he said.  "I really am grateful that [St. George's] took the initiative to host such a dynamic event."
The event then shifted to the Great Hall and Wallace Gym, with all participating Universities setting up a general question and answer period.  Brochures were available for all. The Stanford University representative said, "The key to success in college admissions is standing out. I can see students having good SATs, good grades, and AP/IB courses. However, it is ultimately a matter of what you can put on 'the table'. Why should the university choose you from a wide range of competent applicants?"
The Creed wishes all the best to their senior peers who are embarking on the university application process.
View Comments (2)
About the Contributor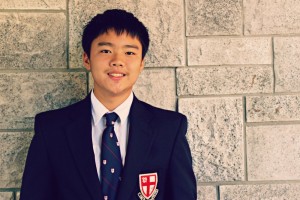 David Yang, Student Life Editor
David is a Grade 10 student at St. George's School. Though originally born in Shanghai, he moved to Canada at the age of five. As a 10th grader in his...