Grade 7 camp a success for grade elevens as well
Last Monday, a group of 11 eleventh graders traveled to Camp Stillwood at Cultus Lake as staff members for this year's grade seven outdoor education camp. The trip was three days long and taught 100 grade seven students various skills such as using a GPS, rock climbing, shooting a bow and arrow, and performing successfully as a team. I was lucky enough to be among these 11 volunteers.
The grade eleven members departed from the St. George's field house at 6:30am on Monday, and arrived around an hour before the seventh graders did. We each got assigned a different "colour" group of approximately twelve students, whom we were to supervise and assist for the duration of the camp. As many senior students can attest to, putting the kids to sleep was particularly difficult. However, soon they were all fast asleep after the tiring, fun filled days which they experienced. A noteworthy activity that was exciting for students and teachers alike was the "Predator-Prey" game, courtesy of junior school science teacher Mr. Brian Shin. Participants choose to be either a predator or prey – each one consisting of different objectives; however, the main goal for everyone is to (figuratively) survive, much like in a real ecosystem. Another high note at Camp Stillwood was the food. Every meal was well balanced and contained hearty, delicious options such as a full turkey dinner.
As for the grade eleven leaders, the majority found Stillwood to be a fun learning experience, and most will be signing up to be student leaders of the same boys next year at the eight-grade camp. Aidan Chan, a fellow eleventh-grade volunteer, found the trip very meaningful. He said, "It was a very eye-opening experience, and it's good that we have this opportunity to bond with grade seven students as they enter the senior school the following year, with us being grads."
All in all, Camp Stillwood was a success, and started off the year well for both the junior and senior schools. The trip lasted three days, with the buses returning in the afternoon on Wednesday.
Leave a Comment
About the Contributor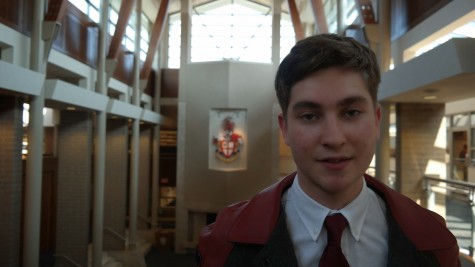 Zachary Levin, Editor in Chief
Zachary is currently a grade twelve student at St. George's Senior School. He has pursued a variety of interests such as being on the provincial Schoolreach...