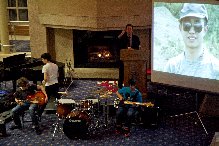 This spring break, a group of boys accompanied by Mrs. Sarah Mclean and Mr. Steffan Tweedle will embark on a trip to build a playground in a children's village in Guatemala.  This will be the second time St. George's has ventured to help Guatemala.  Last year, the boys built a wall for the village. To raise money for this endeavour, the group held an auction night on February 28. The goal was to raise $4500 in an effort to lessen the cost of the trip for the boys, and to help purchase the supplies needed for the playground.
The night consisted of mostly student-run initiatives, including a two part silent auction in which student art pieces and items such as bottles of wine or various food coupons were bid on, as well as food being served. The main event of the night was the live auction. Grade 11 student Tristan Taylor emceed the live auction, to the delight of the audience.  Overall, the Guatemala auction night was a huge success and a great way to assist the Guatemala initiative.
This fundraiser met their goal, due to the help of many generous items donated from very giving individuals: a seven day stay in New York and a Samsung Galaxy S3 were among some of the big ticket live auction items. Also to be acknowledge was the donated time of the St. George's Performance Club. Throughout the night, the enthusiasm and the energy of the boys was a direct reflection of how badly the boys want to get to Guatemala and help out.
Not many things that St. George's offers will have as much of an impact as a trip down to Guatemala. Everybody has their own intentions for going on this trip. For some this is a wake up call and for others it's a great way to help out and do their part to help an impoverished area of Guatemala. The whole school wishes success to the boys  and staff who helped raise $7500 during the auction!