Saints Grade 12's Playing Junior Hockey Out Of Town
This year two grade 12 Saints have left to pursue their hockey careers. Chris Douglas is playing with the Red Deer Rebels of the WHL and Jackson Munro is playing with the Meritt Centennials of the BCHL. Douglas a 6'0 right winger is returning to Red Deer after playing the second half of last season with the team and Munro a 5'10 Defenseman will be a rookie with Merritt after playing last season with the Richmond Sockeyes of the PIJHL. Both Douglas and Munro were undersized players in Bantam and were passed on in the WHL bantam draft. In an interview Douglas reflected he on how even though he wasn't drafted he kept working and grew and was offered a contract with Red Deer as a 16 year old. When speaking about adjustment he had to make upon starting playing in the WHL Douglas said "the biggest part of the game is played between your ears". He harped on the importance of the mental side of the game throughout his interview.
Munro and Douglas recently both had each of their first career goals in the BCHL and WHL. In 24 games last year with the Rebels Douglas put up 0 goals and 2 assists. In the 1st half of the season Douglas put up 13 goals and 24 assists in 26 games with GVC of the BC Major Midget League. He will be looking to provide a bigger role in the Rebels offense with his added experience. Munro currently has 1 goal and 5 assists in 13 games this year with Merritt and had 4 goals and 20 assists last year with Richmond. Both players have accomplished remarkable things just by making it to such high levels of hockey Munro playing Junior A and Douglas playing Major Junior. Both students are extremely well liked and have the support of the school. Grade 12 student-athlete Alex Mackay had this to say about Douglas and Munro "I'm really happy both those guys are doing what they love to do and I really hope to see them succeed with their careers". Both Munro and Douglas are planning to return to Saints in third term after their seasons finish and they will graduate with the Saints class of 2018.
About the Contributor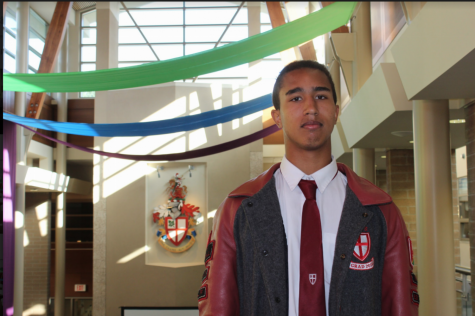 Louis Sujir, The Sports Writer
Louis Sujir is a grade 12 student at St. George's School. He has been a student at St. George's for 12 years. He is a member of the Varsity Basketball...