Ms. Kristen Chen: Master Of Zen
Today I had the opportunity to interview Ms. Kristen Chen. She is a substitute teacher at Saint George's School this year, and she specializes in Math and Biology.
Creed: Thanks so much for taking time out of your busy schedule to talk to us!
Ms. Chen: Not a problem; it's my pleasure!
Creed: Have you taught anywhere else before Saints?
Ms. Chen: Yeah, I spent some time in Ontario in both public and private schools in various capacities. I also helped with some math initiatives at an all-boys school in Toronto. Saints is my first BC school.
Creed: What do you think of St. George's?
Ms. Chen: I love the sense of community we have here. I especially like how there is a focus on academics, but also a strong emphasis on sports and the arts.
Creed: Why did you decide to be a teacher? And why math and biology?
Ms. Chen: I've dabbled a bit in various science and math jobs, but I've always come back to teaching in one way or another. I just really love to share my knowledge, and seeing those moments where students understand something they didn't know before.
Creed: That's a really good reason to teach!
Ms. Chen: Haha, thanks!
Creed: What's the best class you've ever had? The worst?
Ms. Chen: The first thing that comes to mind is my Calculus 12 class' Project Day. They were sharing their finding on famous mathematicians. As they were sharing, I could see the gears turning in their minds – they started making connections between their respective mathematicians, and how their findings fit into the context of history. These connections are often something that is lost in the math classroom, so that was neat to see – definitely one of the best classes so far!  As for the worst, I'd rather not say.
Creed: Where did your love of birds come from?
Ms. Chen: I've had a love of birds from a really young age. I use to go on lots of hikes and I guess that's where the interest in birds came from. I absolutely love the immense variety of birds there are out there, the different colours, shapes and sounds all make for an amazing experience. It's almost like a treasure hunt, because you're looking to see what you can find. It is so rewarding to find a cool or unusual species. It's a wonderful feeling and a great past time.
Creed: What's your coolest bird story?
Ms. Chen: The coolest story I have took place on Christmas day in Toronto. The birding community is a pretty interesting one, and word about rare birds travel fast.  I caught word  that a painted bunting had been spotted about an hour away from where I was. Painted buntings usually only travel between Texas and Panama, so this was pretty unusual.  So, I got into my car drove an hour out of the city hoping to spot it. It was a really cold day – if you've ever been in Toronto during the winter you know what I mean! I saw some nice birds on the way, but not the one I was looking for. Once I got to the spot, I waited for nearly 2 hours.  Then finally I saw this bright rainbow-coloured bird; I was absolutely blown away!  I took a picture of it, and the photo got onto a local nature club newsletter.
Creed: What was your favourite club in high school?
Ms. Chen: I was involved in everything in high school! But one of the coolest things I was involved in was the Science Olympics, not really a club but an annual event. You compete with other schools in a series of biology, physics and chemistry challenges. My team even created a song/cheer – we really got into it. It was fun because it challenged the team and yourself. I was also involved in some music groups and in math club. 
Creed: What's are some facts about you that most people wouldn't know?
Ms. Chen: I have a black belt in karate and played the role of Hodel in a production of Fiddler On The Roof in my hometown.
Creed: And now for the #CreedExclusive Question! If you could transform into any bird, what bird would it be? And Why?
Ms. Chen: I think I would be a humming bird; the Violet Sabrewing to be exact. Humming birds have the amazing quality of flying backwards and forwards, so that's really cool. And the Violet Sabrewing has a very striking iridescent purple colour.
Creed: Thanks for your time.  We really appreciate it!
Ms. Chen: Not a problem; I'm happy to share!
Leave a Comment
About the Contributor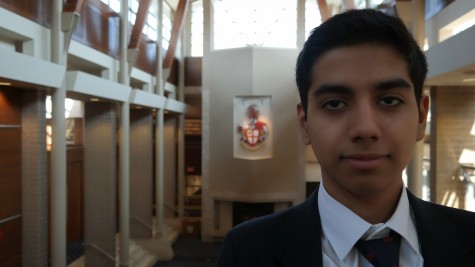 Eshan Cheema, Saints of Saints Editor, Head of Graphics and Design
Eshan is a Grade 11 student at Saints, and is looking forward to the wonderful year ahead. He has attended Saints since Grade 8, and since then has been...