Is Our Student Body the Most Right-Wing in Vancouver?
On Wednesday, October 21st, students at St. George's School had one of their rare interactions with the Canadian political process. Ballot boxes for the 2020 CIVIX BC Student Vote sat in Wallace Gym and McLean Hall, waiting for an avalanche of ballots, or a light flurry, to be more precise. The results run contrary to the usual assumption that young people have more progressive voting inclinations. They seem to suggest that Saints students are more right-wing than most students their age.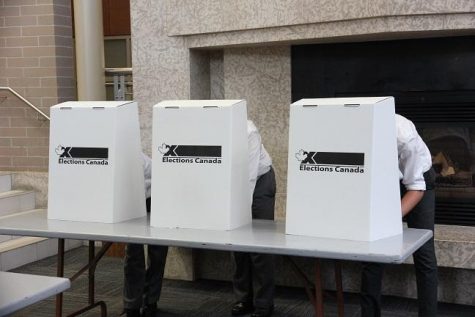 Saints students have consistently leaned to the right in at least the past four federal and provincial Student Votes. This time around, Andrew Wilkinson and the BC Liberals won a whopping 52% of the student vote at the Senior School. St. George's is even an outlier compared to other private schools in the riding. For example, the Liberals won by just ten votes at Crofton House Senior School. More stark is the contrast between the results at Saints and that of schools elsewhere in BC. Take Kitsilano Secondary, in the riding of Vancouver-Point Grey, where the NDP won with nearly 45% of the vote. In total, the Liberals came third in the BC Student Vote.
Our student body's right-wing bent is also confirmed by our 2019 Federal Student Vote results. The Conservatives came first at Saints, with 33 percent of the vote. More ominously, the far-right People's Party of Canada won nearly 10 percent of the vote, more than double their provincial student vote share. The federal Conservatives won here back in 2015, as did the BC Liberals in 2017. Thus, if we take Student Vote results seriously, it appears that the St. George's student body is more staunchly right-wing than those of other schools in Vancouver. But why is this the case? The answer rests on three main factors: parents, class, and gender.
The average teenager's political views are less clear than the average adult's. We're at the point where we are only beginning to develop our own opinions about how things should be run. At this formative stage, much of the political rhetoric we are exposed to comes from one main source: our parents. It is common, therefore, for younger teens especially to mirror their parents' political views. And, it just so happens that parents at St. George's are generally more rightward-leaning, which can be explained by the next factor: class. 
The parents who send their children to St. George's disproportionately belong to the wealthiest sections of society. In common parlance, they could be described as upper-middle class to upper class. Wealthy homeowners tend to support right-wing parties and candidates because the right does not challenge their privileged socioeconomic status. It's therefore in the class interest of most Saints parents to vote for neoliberal policies like lower taxes and economic deregulation, chiefly advocated by the federal Conservatives and BC Liberals. Such views have formed the basis of many Saints students' nascent political leanings.
Saints being an all-boys' school matters as well. In the past decade, a plethora of respected studies, such as one from 2018 conducted by researchers at the University of Manchester that focused on young people in Canada and Western Europe, have suggested that young women are more likely to lean left than young men. The factor of gender can thus explain in part why right-wing parties tend to win the Student Vote at St. Georges by a larger margin than at local private all-girls' schools like Crofton House, where the race is usually tighter. 
Parents, class, and gender all contribute to our student body being as right-wing as it is. Learning at Saints may be boy-centred, but politics at Saints is not very centrist.
Leave a Comment
About the Contributor
Noah Poursartip, Staff Writer
If he's not hunched over his desk doing calligraphy or struggling to listen to a food podcast while brushing his teeth, you'll probably find Noah Poursartip...